Vehicle Multifunctional Pneumatic Tire Inflator Pump for Cars with Emergency Car Power
Product Description
Model NO.: CX-Q01 Standard: Standard Tire Gauges Type: Cartire Pressure Gauge Condition: New Capacity: 12000mAh Start Current: 400A
Size: 154*150*57mm Working Temperature: -20°~80° Origin: Shenzhen Guangdong China Type: Emergency Tools Certification: CE, RoHS, FCC Tire Gauges Carry Way: Portable Control System: Electromagnetic-Operated Input: DC 15V 1A Weight: 1100g out Put: 5V/2A 19V/3A 12V/10A Trademark: changxingzhe HS Code: 8507600090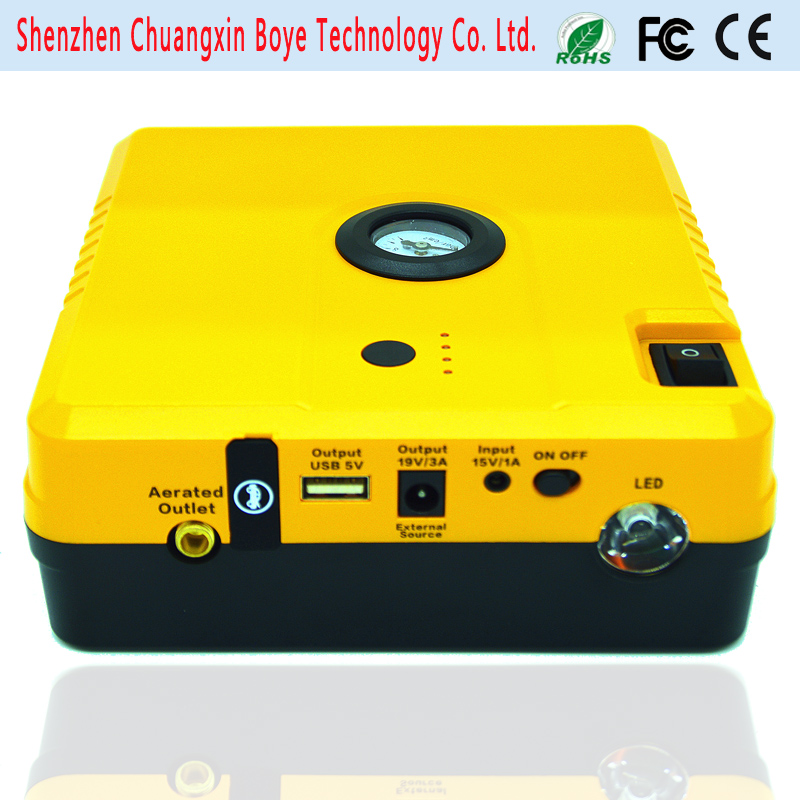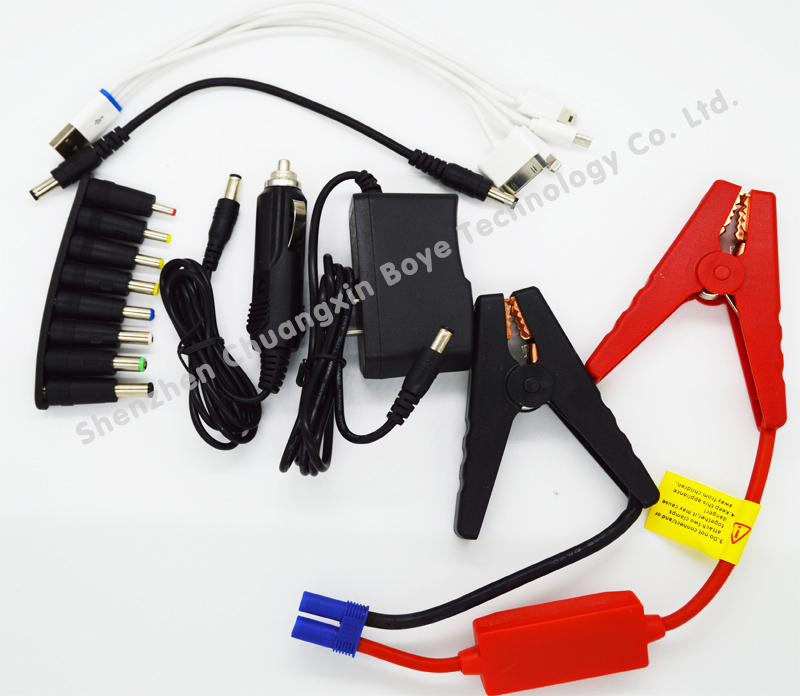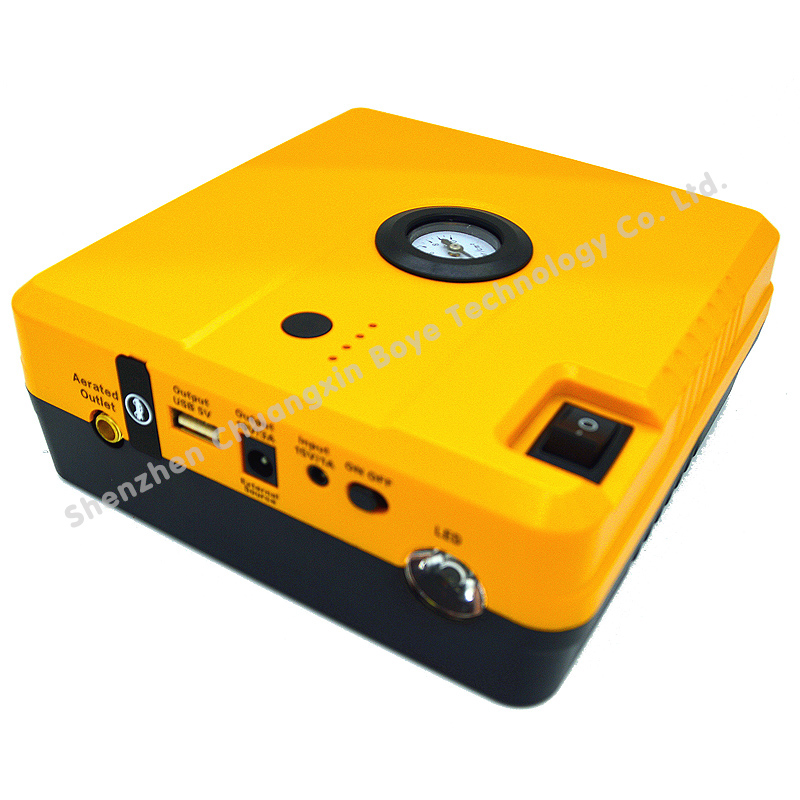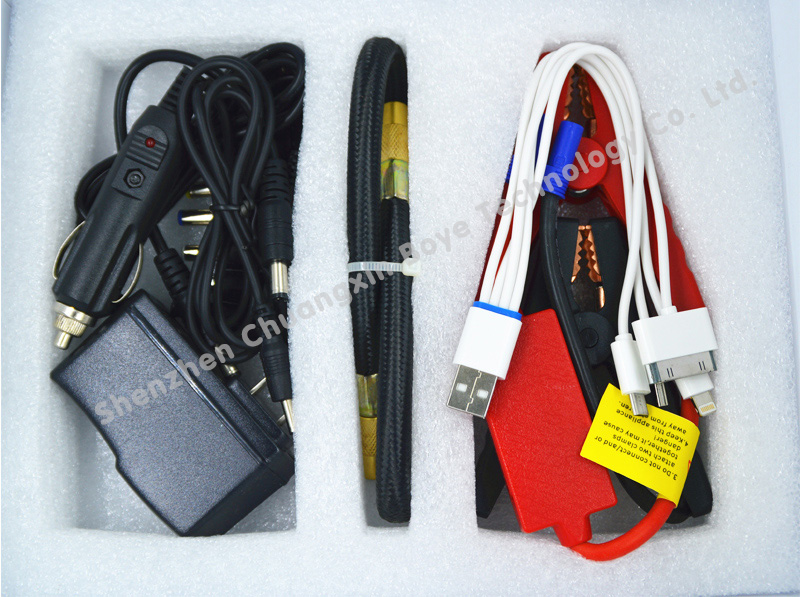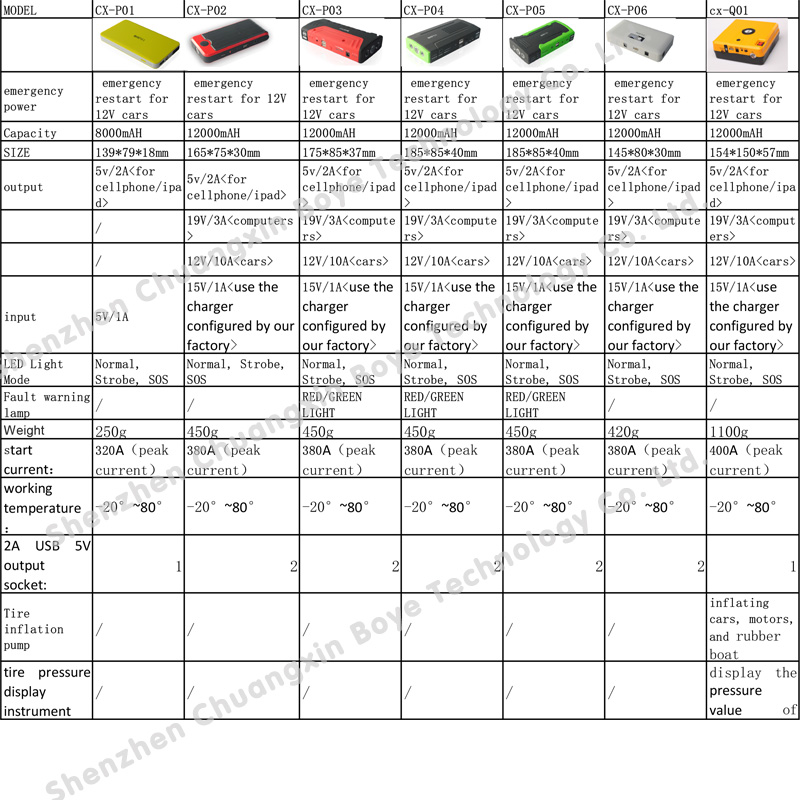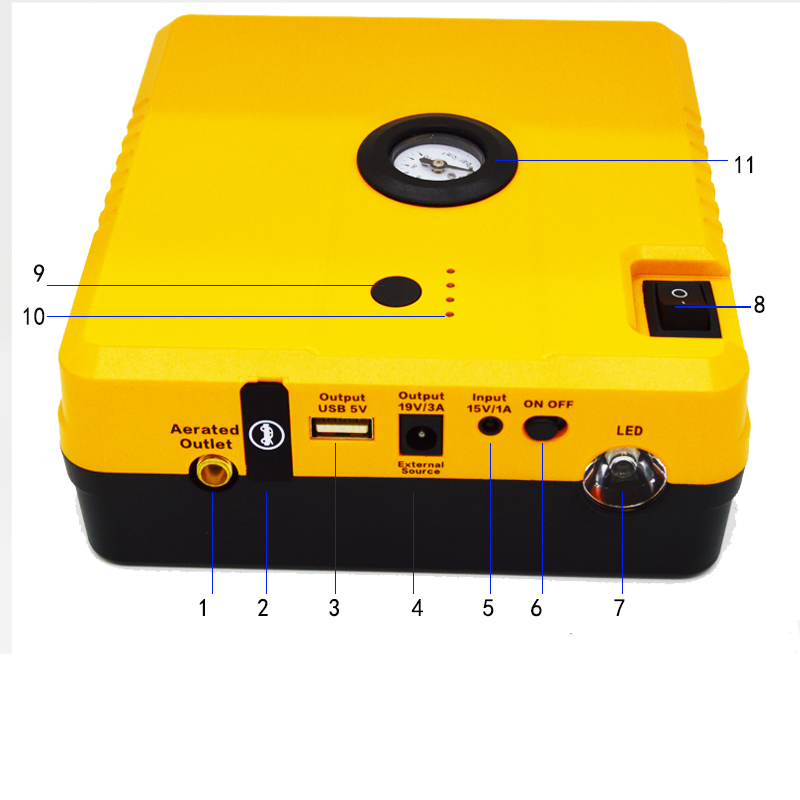 1.air tap interface: use the air-inflated tube connect the air tap interface and the tire.
 
2.12V car start socket: the terminal of starting the 12V car
3.2A USB 5V output socket: to charge phones, or other DC5V electronic devices like Ipad.
4. 19V 3A output socket: to charge notebook computer
5. 15V 1A input socket: let the socket of the charger which is configured by the factory be inserted into the input socket, and the other end of the charger is inserted to 220V house current.
6. power switch: after the switch is closed up, then the mobile power and inflator pump can work
7. light (SOS light): let the main power switch be placed at the "on" position and keep pressing the switch of mobile power for 2 seconds. At the same moment, the LED lamp will light up, as follows: lighting, flashing, SOS, and closed up.
8. inflator pump switch: when the main power switch is closed up, turning on the switch can charge mobile phones and computers.
9. switch of mobile battery: when the power switch is closed, the switch can charge mobile phones and computers
10.electricity indicator: after turning on the switch ,if the electricity indicator has one lamp lightened, the battery charged 25% of the electricity, 2 lamps for 50%,3 lamps for 75%, and 4 lamps for 100%.
11. tire pressure display instrument: display the pressure value of tires
Pressure unit cross-references
Pressure unit cross-references

(

inflation should be

controlled

 within 3.5BAR

)

PSI

26PSI

29PSI

32PSI

33PSI

43PSI

36PSI

40PSI

43PSI

BAR

1.8BAR

2.0BAR

2.2BAR

2.3BAR

2.4BAR

2.5BAR

2.8BAR

3.0BAR

KG

1.83KG

2.04KG

2.24KG

2.35KG

2.45KG

2.55KG

2.85KG

3.06KG

Unit Converter

:

1PSI

≈

0.069BAR. 1BAR

≈

14.5PS

I

≈

1.02KG
 
Technique Specification
size

:

153*150*57mm

capacitance

:

12000

Mah

w

eight

:

1100g

output

:

5V/2A

(

mobile phones

)

19V/3A

(

computers

)

12V/10A

(

cars

)

input

:

15V/1A

(

use the charger configured by our factory

)

s

tart current

:

400

A

(

peak current

)

working temperature

:

-20

°

~80

°
Answering questions
P

henomenon

R

easons

methods

D

uring the process of charging, though four indicators light up, it is failed to be

fully

 charged.

W

ith four indicators lighting up, which means that the charge has been stopped, the machine is under the condition of half charge.

I

t is favorable for the main engine to keep electricity when it has been not operating for a long time.

P

luck the plug and let it get recharged.

P

ressing the switch of the main engine without any response

D

ue to its low

voltage

, the function of protecting the main engine initiated and the current has been cut off.  

L

et the plug of the charger be inserted into the main engine and then the main engine will be activated.


Brief Introduction of its basic functions:
1. emergency restart for 12V cars
2. emergency charging for all kinds of cellphones
3. emergency charging for laptops
4. as a high-intensity and multi-modal LED flashlight
5. inflating cars, motors, and rubber boats
precautions:
Thank you for choosing our multifunctional automobile air pump. Before using it, please read the instructions in detail, which gave comprehensive information about our product, including product parameters, its functions, operating methods , safety warnings and other information attached.
the procedures of starting 12V cars:
1. please confirm that the pilot lamp which shows the electricity of main engine lights in 3 or more than 3
2. let red clamp fasten the positive electrode(+) of the battery while the black one tighten the negative electrode(-)
3. let the connection of battery wire completely be inserted into the socket which helps to start the main engine
4. switch on the ignition of the car by rotating it to the position of start (START)
5. after the car is started, immediately let the plug disconnect
6. remove the battery on the clamp
 
charging electronic products like cellphones or tablet computers
1.  make the matching household plug into the charging socket
2. please recognize the input voltage of the household appliances: generally speaking, mobile phone is 5V, and many of digital products are 12V. The computer is generally 19V.
3. after being connected to the charging port, the power switch should be set to "ON" position. Under the condition that the lamp light up, then it is available to charge those electronic products.
 
inflating vehicles like cars, motorcycles, or rubber boat:
1. connect the valves and the tires
2, the battery main switch is placed in the "ON" position, and then let the switch controlling fill pump be set to the "ON" position.
3. inflate the tires
Common problems:
1. ask: how to start the mobile battery?
Answer: after connect to the charging device, set the battery switch to the "ON" position.
2. ask: how to turn off the mobile battery?
Answer: Our product has the function named intelligent testing. As long as there is nothing connected with the mobile battery or the charge has been finished, the mobile battery will automatically close up in order to save the electricity
3. ask: how long will it take to charge the mobile battery?
Answer: when the electricity is drained, let the mobile battery be connected to the battery charger which is configured by the factory for 4 hours or so and it can be fully charged.
4, ask: how many times can the product start the car?
Answer: under the condition that the battery is fully charged, it can be used for at least 20 times.
5. if the positive electrode and the negative one were reversed, will it damage the car?
Answer: No. Our mobile battery is configured with security detection system. If the positive electrode and the negative one were reversed, in this case, the mobile battery will be cut off automatically with no current output current. Our product will not return to work until the two electrodes be connected to the right positions.


competitive advantage
1.Stable quality
2.Most competitive price
3.On time delivery
4.Good aftersales service
5.All products must test one by one wartproof resistance and high/low temperature resistance
6.Warranty:12months
7.OEM,ODM welcome
 The Reasons of Choosing Our Company:
1.Our company includes  technological department, production department, business department. Also, we have a strong capacity in designing,producing,and R&D. We are confident that we can  provide good services according to your specific orders.
2.We have enough space and plenty of staffs to complete your orders in a very short time.
3.We accept flexible terms and conditions on payment.
4.we promise a fast delivery and the best after-sale services. ODM and OEM orders also are welcome.
5.We welcome your inquiries and look forward to building a long-term business relationship with you in the near future.  If there have any questions, please feel free to contact us. Thanks very much!
 
  Contact us if you need more details on Tire Pump. We are ready to answer your questions on packaging, logistics, certification or any other aspects about Car Power、Emergency Pump. If these products fail to match your need, please contact us and we would like to provide relevant information.

Product Categories : Car Power